Plus new fudge, cookies, and more!
Our Strain of the Month for March 2021 is Rugburn OG! This powerhouse of a hybrid makes a great daily driver, combining a nice head rush with relaxing body effects. Rugburn's dominant terpene, Limonene, gives it a fantastic citrus smell and flavor. For a limited time, Rugburn OG is only $200/oz at Keeper of the Green!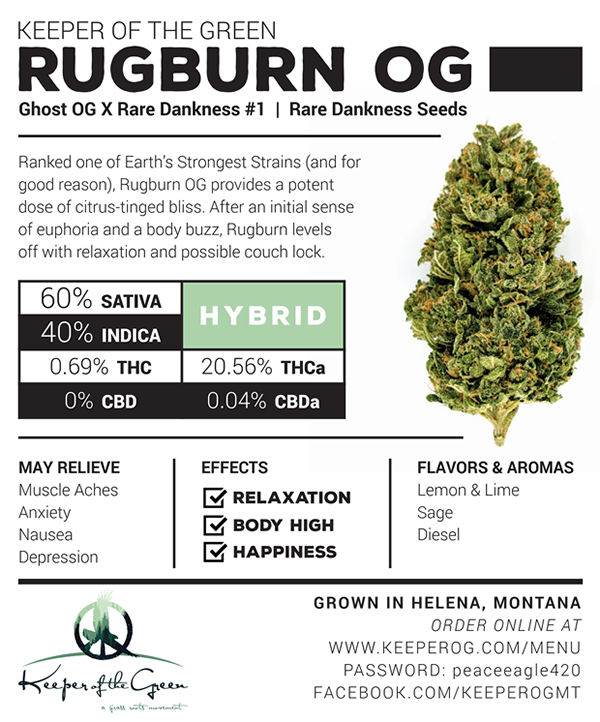 New Products from Keeper of the Green
Keeper OG Chocolate Fudge
Over the holidays, the crew at Keeper of the Green developed a serious infatuation with fudge. So we dialed in our recipe and infused it with relaxing Keeper OG. Get some before we eat it all!
Keeper OG (Indica) // Two pieces for $10 // 16mg THC per piece
Old Skool Chocolate Chip Cookies
One of our strongest edibles yet! The minty terpenes of Old Skool combined perfectly with our chocolate chip cookies, and the result was a delish 60mg THC treat.
Old Skool (Hybrid) // $10 each // 60mg THC
Coconut Oil Capsules
Two new strains in our convenient coconut oil capsules.
Sour Tangie (Sativa) // Ten for $10 // 4mg THC per capsule
Keeper OG (Indica) // Ten for $10 // 2mg THC per capsule
Lip Balm
Try our infused lip balm – two new strains now available.
Sour Tangie (Sativa) // 6ml for $10 // 33mg THC
Keeper OG (Indica) // 6ml for $10 // 14mg THC
Massage Oil
Our relaxing massage oil is now available with Keeper OG!
Keeper OG (Indica) // 3oz for $50 // 68mg THC
COMING SOON
Sour Tangie Caramels
Direct from Brett's Candy Factory, our new caramels are pure sweet and buttery goodness. Currently being tested – we'll make an announcement when these are available asap!
Sour Tangie (Sativa) // TBA

Keeper of the Green is open 7 days a week, offering convenient online ordering with curbside pickup or delivery.