November Strain of the Month:
Keeper OG
Plus more news:
Sour Tangie is Back Stronger than Ever!
NEW Keeper CBD Infused Coconut Oil Available
Our Strain of the Month for November 2020 is KEEPER OG! Our flagship Indica flower relieves pain and anxiety with a dose of relaxation and happy thoughts. It's a tasty toker and also available in our delicious homemade Snickerdoodle cookies.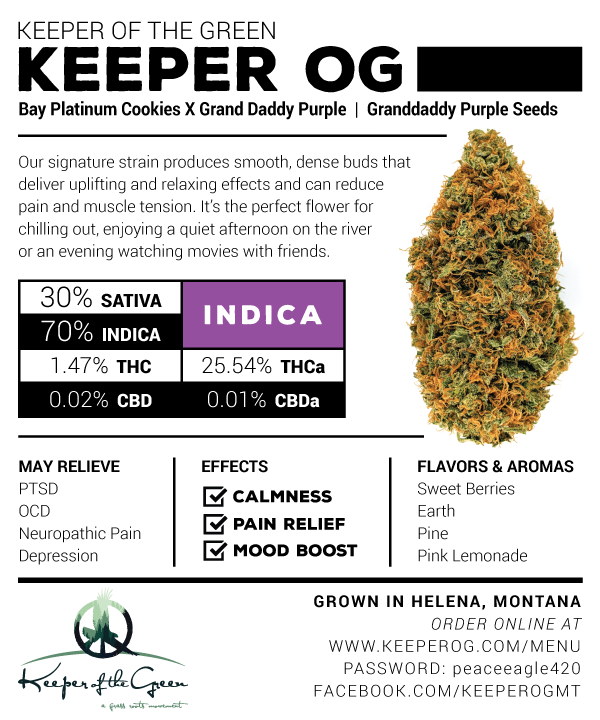 Keeper OG is now in stock and waiting for you!
Sour Tangie is Back!
Our latest harvest of Sour Tangie came back from testing at an incredible 32.56% THCa – an increase of almost 2%. We could feel the difference when we tried it out for ourselves. Come in and stock up today!
New Keeper CBD Infused Coconut Oil Now Available
Relieve pain and soreness with our new Keeper CDB Infused Coconut Massage Oil. Our topical oils are great for treating skin ailments, sore muscles, and lots more.
Keeper CBD (Indica) Infused Coconut Massage Oil
66mg/oz THC + 105mg/oz CBD
$60 per 3oz
Keeper of the Green is open 7 days a week, offering convenient online ordering with curbside pickup or delivery.
Ready to order? Head over to our online menu!