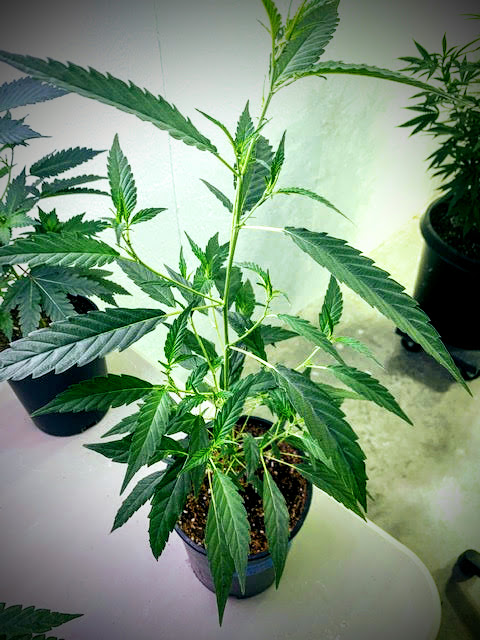 Here's a mind-blowing horticultural story: Most growers would have tossed this plant out on the compost pile, but my curiosity won me over. Rumor has it, a 22% CBD Nightingale strain with ultra low THC (1%) was pollinated with a Lion Heart clone called "The Grunk" (a 22% THC, no CBD Sativa).
It's something I've yet to experience in the cannabis world, but a Sativa CBD effect would be a perfect daytime option for those with specific medicinal requirements. Considering the above numbers, I'm expecting this plant to produce a 1:1 ratio of THC/CBD and aiming for a daytime alert effect.   
This creature's growth habit was very fast and stringy. It required continual topping off in veg. Pre-flowers covered this plant and day one of flower, it started going crazy. 42 days into flowering, it was done – greasy, sticky-icky, amber trichomes, 20 days sooner than expected.
Currently, we have a cutting going through again to double check consistency and for further evaluation on stability.   
It's so different and nothing like our other strains, so it has a unique place in my garden. Moreover, it is teaching me so many new things about the possibilities of cannabis.
A strain like this has no name and may be all alone in this life. This phenotype exists happily in our garden and could be one of a kind. For now, we refer to it as "Awaken", as it aims for that daytime CBD effect, perfect for all those in need.
This one's for you, Sunna! Thanks for being patient while we watch the magic happen. Harvesting soon, with testing results two weeks out.